Picture Gallery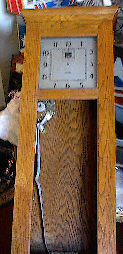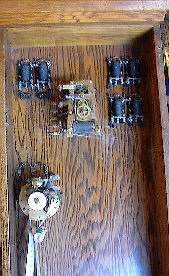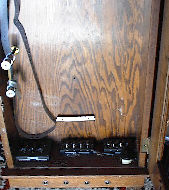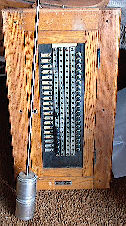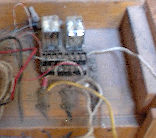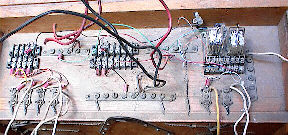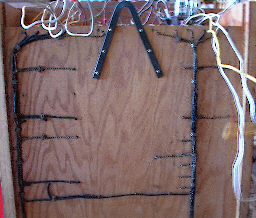 Don't know much about these. Just in general I would guess it to be 40's or 50's.
60 Beat, bottom glass is gone, has about 3 of those program tapes, plus one unused one in a little glass jar in the bottorm.
I have the hands for the clock.
2nd pic of the inside top movement, that little round white dial is presently at 4 o'clock. Is that another clock?
3rd pic shows the bottom contacts. ist one from left are marked for wind and reset. 2nd one for clocks and program, 3rd for bells.
4th pic is of a seperate piece. possibly a remote or manual control for this clock.
5th pic is top left of the case. plastic transformers are marked 110 and 30.
6th pic is top of case and the different contacts and leads.
7th pic is the back of the case, that grouping of 5 leads going into the case towards the bottom right all seem to go to the movement. if you look at the left of the movement in pic 2 you can see where these five leads exit.
metal plaque in the bottom marked Standard Electric Time Co, Type AP, Volts 24
Looks like it would want to run, but not sure what to hook the 110 up to. got 4 wires coming off that transformer area, the white wire on the farthest left could be a ground. two more whites are attatched to the board that the plastic transformer plugs in and also a yellow wire.